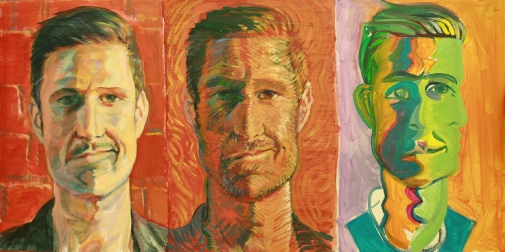 2012
4 FACES OF WIL (ANDERSON) acrylic on board, 30x60cm
WINNER PAKENHAM PORTRAIT PRIZE
Living Learning Pakenham Inc. October/November 2012
This was an exercise I set for my students but thought it best that I have a go at it before expecting them to do it. Also I could help them with some of the painting process by experiencing it myself. The photo of Wil Anderson was from an article in the Age newspaper and because I didn't think the outcome of the painting would be anything much I didn't keep the reference so my apologies that I can't acknowledge the photographer. The aim of the exercise was to gain a better understanding of the thought process and painting process of other artists.
The first image on the left is how you would approach the portrait yourself - I felt that this would allow students to become familiar with the image they'd chosen to paint.
The second in the middle was an interpretation of Van Gogh style of painting.
The third was a Picasso interpretation.
A friend of mine posted the image of this painting on Wil Anderson's Facebook page and it received a few comments, the funniest of them was that the one on the left is Wil at 9pm, the middle one is him at Midnight and the third on the right was Wil at 3am.
The outcome of the exercise for students was that it was harder than at first it seemed but those who tackled it gained very much from it including enhanced painting skill and greater confidence.