These essays were written while studying Theory of Art and Design at Monash University. Art always reflects society, even if it is often in hindsight that connections can be made. I find these connections fascinating.
Is Painting Dead? October 2000
Painting is and will always remain a valid form of
expression. Its good for the soul.
I chose this topic to research because I felt that I was always
having to defend the fact that I wanted to paint when it was
considered out of date. I looked at how Abstract Expressionism
can appeal to our subconscious if we allow ourselves to
contemplate the imagery. I have given some of the reasons I
believe that painting is still and will always be a form of human expression despite fashions within the marketplace.
After seeing the Werner Hertzog film Cave of Forgotten Dreams (Herzog, Werner, Director, Cave of Forgotten Dreams, Documentary film Distributed by IFC Films 2010.) about the discovery of hidden cave paintings in France that depict the animals of prehistoric times in such vivid detail, my views about the validity of painting were strengthened. This film made me feel that to paint was to be practicing a tradition that has endured since the beginning of human society. It is a form of expression humans of all cultures have felt a strong desire for. I've always wondered why that is? Pictures were probably the first way humans communicated.
I guess my reason for questioning is because I've always had an unexplainable desire to paint and wonder where that comes from.
Where are the great Australian woman
In Australian art what role have women played in
shaping perceptions of identity through landscape
imagery in the second half of the 20th century?
For the second essay "Where are the great Australian women
landscape artists?", I became very passionate about women's
art after discovering some revealing statistics. In this essay
I made some interesting connections between Australian
music and art in the 80s.
Terry Winter, Free Union, 1983
Featured in 'Is Painting Dead' Essay 1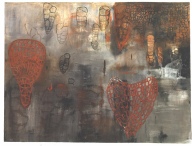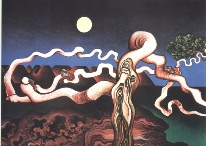 Shay Docking, Harvest Moon and Tree Serpent Goddess, 1978
Featured in Essay 2
Two Traditions of Australian Aboriginal Art.
Compare and contrast the formal and contextual logic
in two traditions of Australian Aboriginal art: 'tradition
style' art of Arnhem Land and urban Aboriginal art,
specifically that of Lin Onus.
I have always admired Aboriginal art and was particularly
interested to research the connection between urban and
traditional forms of Aboriginal art.
Lin Onus's art builds a bridge between Indigenous and Western art using humour to deliver a serious message. I learnt so much about Aboriginal culture from this research.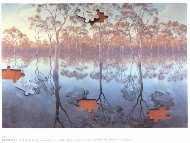 Lin Onus, Barmah Forest, 1994
Featured in Essay 3
Artists as Genius of their culture.
Artists create nothing, they are merely mediums
for the 'Genius' of their culture.
Discuss in relation to Australian Aboriginal Art.
In the fourth essay I wanted to look at how Aboriginal
art fits into the context of the Western idea of art.
I look at the expressive work of Emily Kame Kngwarreye and discover that part of its appeal is that is doesn't try to fit into any Western ideology but her creativity remains universal.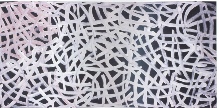 Emily Kame Kngwarreye, My Country, 1995
Featured in Essay 4