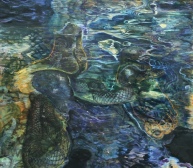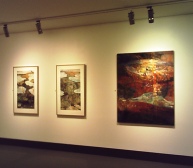 2008 EXHIBITIONS
~ JOHN LESLIE PRIZE (Finalist)
~ ARC YINNAR DRAWING PRIZE (Finalist)
~ A SNAKE AT MY FEET EXHIBITION (Solo)
~ SINGULAR PERSPECTIVES EXHIBITION
2008 JOHN LESLIE PRIZE
FINALIST - 2008 John Leslie Prize for Painting inspired by Landscape
Gippsland Art Gallery Sale, October 4 to November 16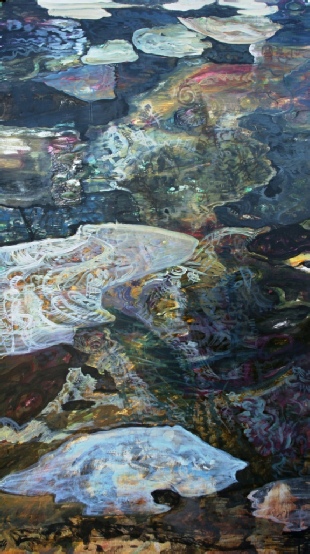 Banksia Aura, mixed media on silver board 100x57cm
Statement about work: Banksia Aura
This work started as an aerial view of the typical landscape along the Gippsland Lakes region during drought conditions, featuring the sickly pinks, purples and green-golds of dried lake and river estuaries where salt remains
after water has drained from the earth.
But I wanted to explore more than just
a representational view of the landscape.
I began to recognise similarities between elements of the aerial imagery and elements within the landscape in these sandy areas predominated by gnarled Banksia trees and dry native grasses.
The work evolved into an amalgamation of both types of imagery, simultaneously describing close and distant elements.
By exploring the relationships between these elements through the medium of paint, a process of layering, scraping, scratching, repetitively covering then revealing, the work has taken on an aged and almost ancient quality that replicates the rugged, perpetually changing windswept characteristic of this coastal region.
2008 ARC Yinnar Drawing Prize
Finalist - 2008 ARC Yinnar Drawing Prize,
Gallery ARC Yinnar Nov 2 - Dec 19 2008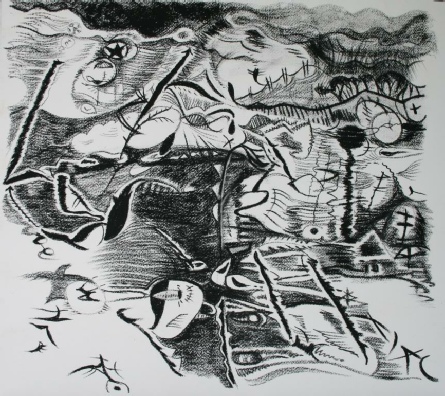 Life Force, charcoal on Lana, 70x75cm