2016 EXHIBITIONS & EVENTS
EDMUND & CO. ART TRADERS - LAUNCH EXHIBITION NOV 2016
RITUAL - CARDINIA CULTURAL CENTRE July 8 - August 5 2016
SOLO EXHIBITION
CUDGEWA BLUES - CARDINIA CULTURAL CENTRE
In 2015 members of SECAN (South Eastern Contemporary Artist Network) travelled to the high country of north-eastern Victoria to look for inspiration in the remote rural location. Cudgewa Blues is the resulting exhibition of works.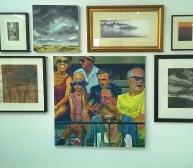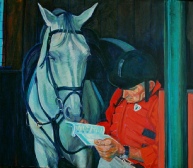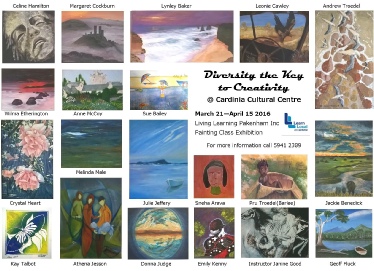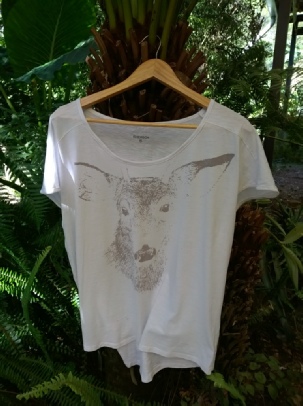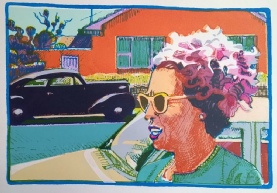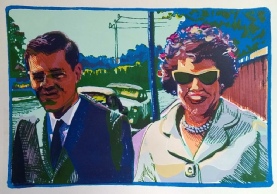 Screen Printing Experiments
During the summer of 2015/16 I spent some time in the studio exploring the potential of Screen Printing. I had participated in a Screen Printing workshop at Art Resource Centre (ARC) Yinnar late in 2013 under the guidance of Sharon Anderson and wanted to explore further.
The two images RIGHT were based on slides my partner's mother had taken in 1952 at a Church Homecoming in Brighton. I found these images after Roma had passed away and found them intriguing not only for the fashion of that era but because the colour process was different and produced a different colour resonance that I wanted to attempt to replicate.
The tshirt image was a drawing done by my talented daughter Kate Price, I wanted to make a gift of it for her.
SECAN PROJECT: ART IN THE GARDEN - BLACKWOOD LN GEMBROOK
Oct 23 2016, Host: Sue Jarvis
All day painting and talking with visitors. A fun day!
Shared space with Pauline Mackinnon author, promoting her book of short stories, poems and photography, Treasures From the Tide
For a copy of Treasures From the Tide : bonesymackinnon.wix.com/treasures
YAKKERBOO PAKENHAM PORTRAITS - Out of the Tide Pauline Mackinnon
SECAN PROJECT: WHISPERS - GATE 6 GALLERY BERWICK Feb 2016
In 2016 members of SECAN (South Eastern Contemporary Artist Network) participated in a visual art project inspired by the Chinese Whispers idea.
OTHER PROJECTS 2016 -
DIVERSITY THE KEY TO CREATIVITY, Cardinia Cultural Centre
Living Learning Pakenham Painting Class Student Exhibition
March 21 to April 15
Everyone in the class was encouraged to participate, 20 students and
about 80 artworks were exhibited.