2018 - 6 EXHIBITIONS, 1 COMMISSION
2018-19 MARVELLOUS MELBOURNE - October 8 2018 to January 31 2019
HIDDEN FACES - 2018 Victorian Salon des Refusés - June 11 to October 4
2018 PAREIDOLIA (SOLO) - BURRINJA GALLERY - 16 June to 15 July 2018
2018 SECAN MEMBERS' EXHIBITION - March 3 to 25 2018
2018 'Still' - Women's Exhibition - Gallery ARC Yinnar March 2- 31 2018
2018 CHANGING FACES (SOLO) - WHITEHORSE ARTSPACE BOX HILL
9 February - 6 April 2018
COMMISSION: PORTRAIT OF GEOFF HODGE WITH HOLDEN MONARO
2018-19 MARVELLOUS MELBOURNE - Its Art and Soul
PAN PACIFIC MELBOURNE
2 Convention Centre Place, South Wharf
October 8 2018 - January 31 2019
A curated exhibition in celebration of the world's most livable city, featuring paintings, drawings, prints and photography by some of Melbourne's best known artists.
Artists included: Joe Blundell, Peter Coates, Pamela Conder, Robert Lee Davis, Betina Fauvel-Ogden, Louise Foletta, Janine Good, Roger Gould, Anne Marie Graham, Gary Medicott, Bruce Pastle, Jaq Grantford, Philip Hickingbotham, Matt Irwin, Kate Jenvey, Richard Knafelc, Geoff La Gerche, Jan Martin, Steve May, Joanne Morris, James Pasakos, Ronald Penrose, Doug Porter, Arthur Edward Powell, Mike Rings, Ingrida Rocis, Rachel Rovay, Victor Rubin, Judi Schiff, Richard Shaw, John Spooner, Susan Sutton, Jim van Geet, Lisa Wang, Victoria Watts, Marcus Wills and Christine Wrest-Smith.
Curator Jacqueline Taylor: "This is a collection of original artistic expressions, depicting Melbourne's uniqueness - the 'essence' of the City, Marvellous Melbourne highlights - the everyday ambience of Melbourne - past and present, the inimitable features of Melbourne which make it the alive enjoyable city it is!"
5 Artworks, 5 exhibition photos
HIDDEN FACES - THE 2018 Victorian Salon des Refusés
PAN PACIFIC MELBOURNE
2 Convention Centre Place, South Wharf
June 11 - October 4 2018
Opening Event Thursday June 21 7pm
This is the 17th HIDDEN FACES exhibition of portraits by Victorian artists, originally submitted for a number of national portrait prizes, including the Doug Moran, Portia Geach, Archibald, Sulman, Scratchboard and Black Swan which were either not hung in the 'official' exhibition or have not been shown in Melbourne.
This year I have 2 exhibits in the Hidden Faces.
Archibald submission "Immersed" Portrait of Gippsland artist William (Bill) Young
Sulman submission "Family Outing (Nomophobia)"
https://youtu.be/ric4WMSG70M
4 exhibition photos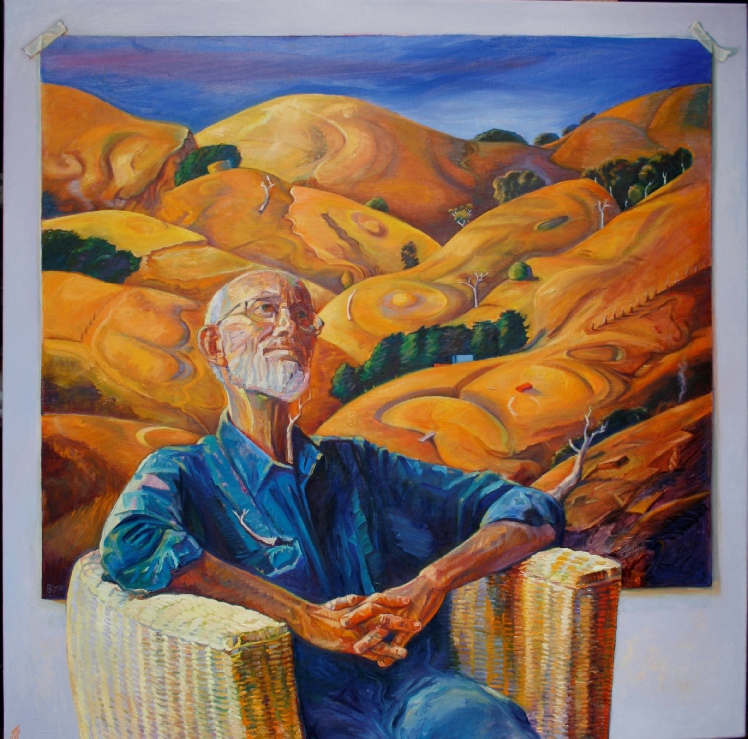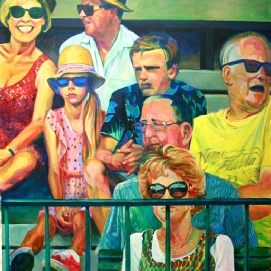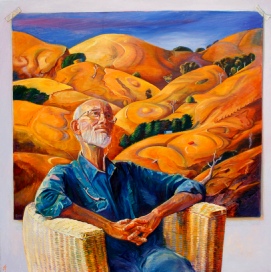 'Family Outing (Nomophobia)'
Oil on canvas 102x102cm
2018 Sulman Prize entry
'Immersed' 2018 Oil on canvas 102x102cm
Portrait of artist (Bill) William Young
2018 Archibald entry
2018 SECAN MEMBERS' EXHIBITION March 3 - 25 2018
Gate 6 Gallery, Cardinia St Berwick
Opening Saturday March 3
- Blush Oil on canvas 122x61cm, Tapestry of Life Oil on canvas 122x61cm
2018 'Still' - Women's Exhibition March 2- 31 2018
Gallery ARC Yinnar
Opening Friday March 2, 5,30pm
- Strange Birds, Oil on canvas 100x110cm (Version 1)
2018 CHANGING FACES - WHITEHORSE ARTSPACE BOX HILL
Solo exhibition All Nations Foyer - 9 February - 6 April 2018
I spent 2 years studying art at Box Hill TAFE in 1986-8 so was thrilled to be offered an exhibition at Whitehorse Artspace.
Apart from Heritage Hill Gallery in Dandenong this is the first time the exhibition has been in a real gallery environment, having been exhibited in community spaces previously.
With better lighting and more space the faces look stunning especially on the dark main entrance wall. I delivered a Gallery Floor Talk on March 17 2018.
3 exhibition images